Electrician Tarragindi
Home /

Electrician Tarragindi
Electrician Tarragindi
Weiss Electrical is based in Annerley and services surrounding suburbs Belmont, Highgate Hill, Electrician Indooroopilly and Electrician Norman Park.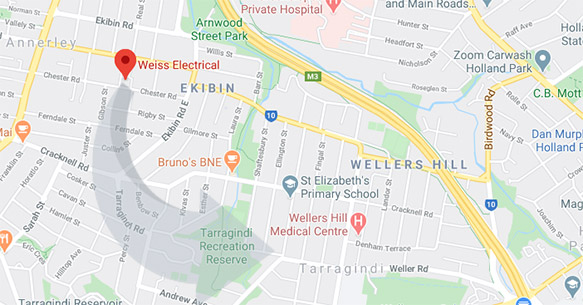 Tarragindi is a suburb of Brisbane, Queensland, Australia, 7 km from the CBD. It has a population of approximately 12,000 residents.
Tarragindi History
Tarragindi is known for its parks and liveability. The core of the suburb lies in a valley running north-south, surrounded by ridges marked by the highest points, Wellers Hill to the east and Tarragindi Hill to the west. Sandy Creek has its source in Toohey Forest to the south and flows through the major part of the Tarragindi.
Prior to European settlement in the early 19th century, Tarragindi was inhabited by the Coorparoo Aboriginal group from the wider Jagera group, also referred to as Yaggera (from Moreton Bay to the base of Toowoomba ranges), who occupied the land south of the Brisbane River around Oxley, Norman and Bulimba Creeks. A bora ring was known to have been maintained in the area, possibly near Barnehurst and Isabella Streets, Tarragindi.
The Tarragindi Name
The suburb was named after a man from the Loyalty Islands (near New Caledonia) who was transported in the late nineteenth century to Queensland. Tarragindi and other Pacific Island people were used as cheap (or unpaid) sources of labour for sugarcane production.
Apparently, Tarragindi escaped and was employed by Alfred Foote in Ipswich. Later, he cleared land for Foote's relative, William Grimes, on a hill near Sandy Creek and this property was named after Tarragindi. He remained with the Foote family in Ipswich until just before he died aged 63. The grave of Tarra Gindi Tasserone is located in the Ipswich General Cemetery.
Tarragindi Today
The median age of the Tarragindi population is 37 years, the same as the national median.
80.2% of people living in Tarragindi were born in Australia, compared to the national average of 69.8%.
Tarragindi has the highest owner occupancy of any suburb in the southern corridor of Brisbane at 90%.
Weiss Electrical understands how Tarragindi families take great pride in their personal investment in their homes. Therefore, Tarragindi residents are keen to maintain the high quality of electrical, digital and IT infrastructure inside their homes and implement upgrades of services to their homes as new technologies are developed.
Weiss Electrical is your friendly, reliable, affordable Brisbane electrician. We have been servicing residential, commercial and industrial customers for over 25 years. We bring knowledge, experience and quality to every job. With Weiss Electrical you'll get great advice with years of experience behind it. Weiss Electrical are trusted by many, but don't take our word for it, read our reviews. Our 9 point Quality Guarantee is what separates us from the rest.
Tarragindi Customer Experiences
1

Internet issue in Tarragindi
No internet. Please check phone lines. Rob (customer) has been advised by his carrier that the issue is inside his house.
Solution notes:
Discuss issues with Rob.
Perform a visual inspection of the cabling from the router under the house to the network boundary.
Perform a speed test directly from the router in the lounge room.
Download speed was roughly 4.85 megabits per second.
Upload speed was roughly 468 kilobits per second.
Relocate the router to the network boundary and connect.
Perform a speed test again with the same router and same port.
Download speed was roughly 5 megabits per second and upload was 500 kilobits per second.
No significant difference.
No issue found in cabling under the house.
Reconnect all terminations re-secure all panels and reconnect the router.
Test and check to confirm correct operation.
All ok. Issue has been sent back to the carrier.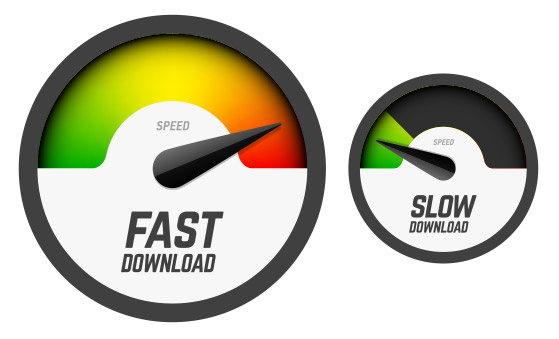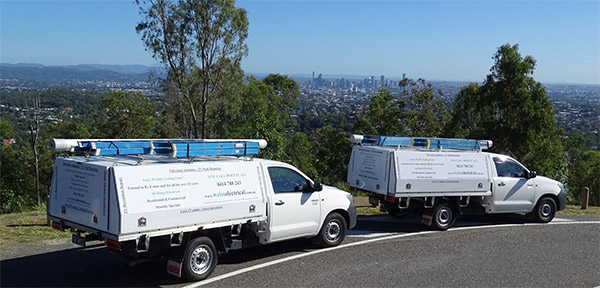 Our services
You'll get experience and knowledge that over 25 years in the industry gives.
From new home installs and renovations to repairs and maintenance. We can do it all for you. No job too big or too small.
We can help with your cabling and data needs, and make your life better with improved WIFI connections.
From new home installs and renovations to repairs and additional TV outlets.
Control your security and house lighting from your smart phone. This is just one of the many things we can do for you.
You'll get licensed and highly skilled staff that will do the job properly the first time.
Your air conditioning unit could be making you sick. Did you know servicing your air conditioning unit is as important as servicing your car?
Check out our amazing 9 STAR QUALITY GUARANTEE